An excellent spa business provides its clients with a wonderful sense of ease, simplicity, and relaxation, but behind the scenes, a lot goes into the successful running of it. 
Whether you are at the concept stage and want to know how to start a spa business, have thrown yourself in at the deep end, and need some extra guidance, or you're a spa owner who wants to improve your spa, here is a comprehensive guide for starting and running a successful spa business. 
What spa services will you offer?
According to the International Spa Association (ISPA), a spa business offers at least two services relating to body/beauty treatments, skincare, makeup, or massage. 
Some have a clear idea of the services they want to offer from the start, which is often related to the skills they already have. Still, there may be some complementary services that will require the hiring of other qualified industry professionals. 
It's essential to take the time to research each potential offering, including the projected profitability of each offering and whether there are any regional/state licences required to offer them legally. 
Who will your clients be?
In conjunction with deciding which services you will offer, it's important to consider what demographics your spa will most attract. 
While women may understandably make up the majority of your target audience, men are increasingly taking to various spa-related services. For example, in 2020, some of London's Harley Street clinics reported a massive 50% increase in men receiving aesthetic treatments.
According to Mindbody's Beauty and Wellness Trends Report 2022, the top three beauty services in the US are eyebrow waxing/threading, manicure/pedicure, and Botox fillers, while the top three wellness services are massage, IV therapy, and red light therapy.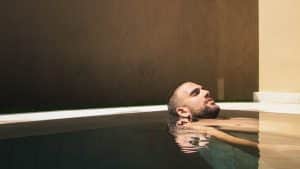 What equipment or supplies will you need?
Once you have decided what services you will offer, you'll know what equipment or supplies you will require. Of course, these decisions will ultimately depend on the space you have to work with, but you can still outline your preferred approach prior to finding and securing a business premise. 
The list of equipment possibilities is virtually endless, but as a start, could include:
Massage tables (or chairs for pedicure combo treatments)

Stools/ottomans

Nail technician tables

Linens, wash cloths, etc

Washer and dryer facilities

Laser hair removal machines

Reception furniture

Office equipment/software

and much (much) more!
You will be able to make a comprehensive list of everything you need related to the services you will offer, and make a list of initial expenses as you go. You can also consider any expensive outlays that can be delayed until your business is turning a profit. 
Where will you base your business?
The location of a business can make or break its chances of success. Therefore, one of the most important things to consider when choosing your location is finding a good fit in relation to your target demographic. Are you considering opening a luxury day spa in the city centre? Or perhaps you want to know how to start a spa business at home. 
Aside from the obvious considerations regarding your budget, other factors to consider include:
Visibility

Foot traffic

Demographic

Parking availability

Nearby competition

Complementary businesses (i.e. being located close to a gym)

Zoning – ensure that the area and building will allow for your intended use
Creating your brand
Bringing your spa business to life is exciting and it's likely that you already have a business aesthetic in mind regarding your branding. Still, your target demographic, the services you will offer and the area you will be located in should all inform your branding decisions. 
Naming your spa
As with any business, the name should clearly reflect the brand, the quality, and the overall tone of your spa. This may be an easy step for some, and feel almost impossible for others! The options are virtually endless – words based on relaxation and indulgence, your own name, and the specific services you will specialise in. So, play around, do plenty of brainstorming and run them by friends and family to gauge their reactions. 
Be sure to check that the name you decide upon is not already in use and that it can be trademarked.
Branding aesthetics
Your branding style is usually the first thing potential clients will see, so it must be carefully designed to encapsulate as much as possible about your business; what you do, the level of quality to expect, and more. 
It's vital to create a brand design that you can use across all media and marketing platforms, maintaining brand consistency to ensure that your business becomes easily recognisable and trustworthy. Important factors include logo design, colour palette, font/typography, and any images you use. In addition to your business name, a short tagline can enhance your brand's message.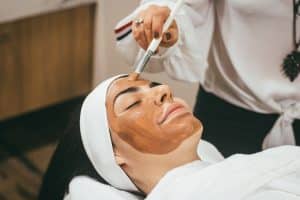 Retail sales and experience
Most spa facilities incorporate a variety of retail aspects into their operations, so it's essential to consider how you might do this. 
Will you sell skincare and other wellbeing products? Will you sell equipment? Retail sales can significantly boost your bottom line, so it's prudent to carefully consider how you can incorporate it into your business. 
At the very least, selling gift cards for your services is a no-brainer. In addition to providing a flexible option for customers to purchase gifts for loved ones, it's common for the recipient to end up spending over and above the gift card amount when it comes time to use it. Gift cards also give you a shot at gaining a new repeat customer. 
Adding a retail element to your services will require you to consider additional software elements to your business – not a necessity, however, the more seamless the experience is for your customers, the better. Consider how you will receive payments, whether you will add a retail element to your online offerings, how staff can most easily recommend products during treatments that will result in further sales, etc. 
Software
Every small business owner must consider what system will best facilitate the efficient running of their operation, and that goes for spa owners, too. Management software can assist with appointment scheduling, client records, payroll management, marketing, retail sales, and more. 
There is a wide variety of software systems to choose from, ranging widely in both cost and levels of service inclusions. Two popular choices are Fresha and MindBody, but there are many to choose from and it's important to research your options thoroughly for the best fit. When deciding on software, be sure to future-proof your business's ability for growth. 
Marketing
Devising a marketing strategy will inevitably play a vital role in the success of your business, so it requires careful research, planning and monitoring. 
You will need to consider how best to reach your target audience, and what budget you will have to work with. These days, a huge proportion of business marketing efforts are centred around social media, so your digital marketing strategies will need to be on-point.
In many instances, social media marketing is also a free resource. While you can pay for advertising on the platforms, some carefully calculated strategies can be extremely effective for low-to-no cost. Social media marketing tends to work best with a consistent, engaging, and innovative approach that incorporates trending hashtags, challenges, giveaways, and more. 
To get your business off the ground initially, it may be a good idea to circulate some physical flyers in the local area, offering opening promotions, and possibly holding a launch event.
The best way to market a spa business is an article in itself – but suffice to say it will form a large part of your spa's success (or failure), so take a deep dive into what works best and create a comprehensive plan of attack.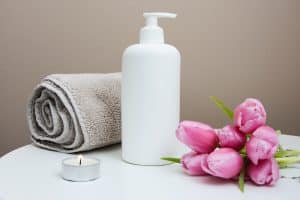 Website
Your spa's website will need to be on-brand, consistent with your marketing aesthetic, easy to navigate, and mobile-friendly.
If you intend to add a retail component to your site, be sure to offer highly trustworthy tools that give your customers the peace of mind that their personal and financial details are secure. 
Security
While we're on the subject of security, it's vitally important to carefully consider all aspects of your business's security, including both cybersecurity and the security of your physical premises. 
You may need to invest in secure door locking and alarm systems unless the commercial premises you will be occupying are already equipped with sufficient technology. Cloud-based access control systems may also be a consideration if you intend to employ multiple staff members.
In addition, consider the security of your client's belongings. While many spas use simple baskets for client belongings, you may want to offer secure locker facilities as an additional luxury.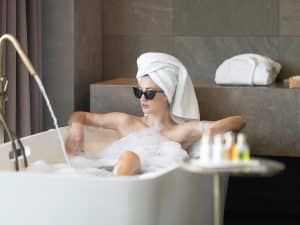 Ambience
Sound-proofing
If you're going for a high-end quality spa experience, you will likely need to invest in some sound-proofing materials. This could mean replacing wall insulation, installing sound-proof doors, and applying sound-proof acoustic materials to the walls. 
Nobody wants to invest their time and money into a relaxing treatment only to lie there listening to traffic noise or activity in an adjacent room. 
Lighting
Many spa treatments require ambient lighting to set the intention for deep relaxation. While some treatments may require bright light, any treatments that don't require the careful visual concentration of the technician should be lit with low, warm tones for ultimate relaxation. 
Relaxing music
When it comes to the ultimate spa experience, just as lighting sets the tone for deep relaxation, so too does the background spa music or massage music.
The right music can make all the difference as to whether your client will recommend you to others and look forward to returning for more treatments. Background music can lull clients into a state of deep relaxation, creating an unforgettable spa experience.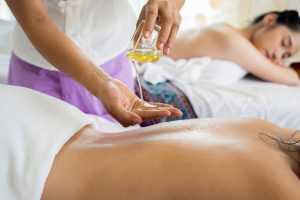 Why choose Myndstream?
Myndstream produces music for businesses in the wellness sector, from individual massage therapists, nail technicians, and cosmetologists, to salons, day spas, beauty franchises, and resort spa facilities. 
Myndstream Spa Service offers an accessible, cost-effective solution for spa businesses, with a vast collection of music from talented artists, curated and created to fit perfectly into a health and well-being space. 
With bespoke playlists to choose from, you can tailor your background music to suit the treatments you offer – relaxing, calming, energising, meditative; all carefully curated to suit whatever mood you intend to induce. You can even ask the client what feeling they are hoping for to further personalise their spa experience. 
Myndstream's catalogues feature some of the world's leading musicians, such as Liquid Mind, 2002, Kevin Kern, Bernward Koch, Peter Kater, and more. 
From just US$250 annually (plus discounts for each additional location) you can fill your spa treatments with the ultimate in complementary sounds, creating memorably relaxing, invigorating or calming, meditative sensations that will keep them coming back for more treatments. 
You can work with Myndstream to create your own unique playlists, or even go as far as to have zen music specifically created for your business.
Here is an example of the beautiful, relaxing spa music provided through Myndstream.
Staffing decisions
Of course, if you wish to offer services that you are not qualified for, you will need to incorporate upskilling or staffing costs into your business plan.
Depending on the scope of your business and the level of quality service you are aiming for, you may also want to hire a dedicated receptionist for handling all bookings, guest greetings, etc.
When deciding on your staffing needs, consider all aspects, such as the rate of pay you will offer, any necessary training and related costs, whether you will offer any monetary incentives for upselling products or additional treatments, and more. 
You may plan to add more staff as your operation grows, but it's imperative to plan out how it will look both initially, and once you become more profitable. These plans form an important part of your business plan and related financing.  
Costs
Once you have worked through all the above considerations, you should have a pretty good idea of your projected set-up costs, ongoing overheads, and forecasted profits. 
Be sure to include absolutely everything in these projections; rent costs, licences and permits, products, software, security measures, fitout, equipment, staffing, marketing, and anything else relevant to your particular business. 
Create a business plan
Any savvy entrepreneur understands the value of a business plan. Not only is a solid, realistic business plan a vital component to securing any necessary business finance, but it provides the map to guide you as you begin operating and striving for success and growth.
Business plans can and should be subject to regular revision in accordance with performance, economic climate and a variety of other factors; they are a flexible, working document that informs lenders and owners as to the direction, strategies and goals of the business. 
Financing
Once you have conducted all necessary research and you have a comprehensive business plan in place, it's time to approach lenders for financing. 
Of course, you may have the funds at your disposal, or have a family member or friend willing to support your dream. For some though, starting a business requires funding via a small business loan. Consult with several leading lenders to determine your eligibility and be sure to carefully compare products across multiple institutions for the best deals.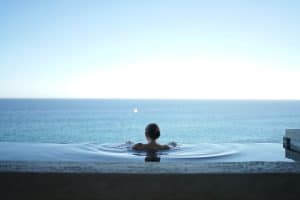 Preparation is key
It's natural as a spa owner or budding entrepreneur to feel overwhelmed in the face of so many considerations, but take it one step at a time. If your heart is set on running a successful spa service, use that passion to drive you to systematically work through each step of how to start a spa business, ensuring that you set yourself up for success.