Across the globe, consumers invest their hard-earned money in their health and wellness, and the salon and spa industry has no shortage of options when it comes to personal care treatments. By 2030, the global spa industry market size is expected to exceed US$185 billion – a significant jump from the estimated US$95 billion valuation the industry held in 2021. 
Of course, this industry rise suffered a colossal setback during the chaos of COVID-19. Many spa treatment facilities were forced to shut up shop during the pandemic, and those that were able to maintain some level of operation had to strictly limit patreon numbers and adhere to many new hygiene regulations, such as near-constant hand sanitisation requirements. Social distancing requirements made it virtually impossible for many treatments to take place, leading to approximately 80% of spa facilities closing down during the pandemic.
The conditions of the pandemic certainly had an unavoidable, significantly negative effect on the spa industry. Still, the fallout from COVID and related lockdowns are that more people than ever now seek to prioritise their health and wellness more than ever. 
An increased focus on living a healthy lifestyle for optimal physical and mental well-being is quickly ramping up the demand for spa treatments.
Furthermore, the busyness of professional schedules, rapid development and urbanisation, and increased sedentary working roles continue to increase the demand for spa treatments as a means to relieve stress and anxiety and access therapeutic benefits.
Other factors that drive spa industry growth include an increasing female population, rising demand for anti-aging treatments, and more and more men adopting self-care regimes. Here we'll look into the latest spa trends, so you can learn how to take your spa to the next level in 2023.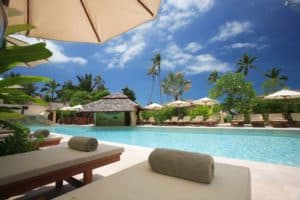 Hotel, wellness and destination spas 
According to in-depth research published by Grand View Research, a number of international hotel chains represent a sizable chunk of the industry, with Hilton Worldwide boasting 400-plus spas globally. Meanwhile, spas in the Asia Pacific region account for over 50% of the spa facilities built globally, with 65 spas at Starwood Hotels currently under construction in the area.  
At 37.4%, the largest share of global spa industry revenue for 2020 was held by the hotel/ wellness resort spa sector. Despite the (albeit significant) blip of COVID, wellness destinations and tourism continue to trend upward around the world. Between destination spas, day/salon spas, hotel/resort spas, medical spa facilities, and more, the spa industry market is booming. 
Giant hotel chains continue to broaden their wellness centres and offerings in line with consumer demand and expectations. For example, in 2017, Hyatt Hotels bought up two prolific wellness brands, Miraval Group and Exhale, incorporating them into the services offered to Hyatt Guests. 
Regional insights
In terms of regional revenue share, Asia Pacific dominated with a 28% share of the market in 2020, with key tourism industry expansions in developing countries like China and India playing key roles. These developing regions are currently exhibiting strong economic growth, with thriving hospitality, tourism, and wellness services industries continuing to drive the market. The ever-growing popularity of traditional treatments such as Thai spa massages and wellness trends related to Ayurveda practices are at the heart of much of this positive economic trajectory, with destination luxury spa packages including specialised treatments unique to their regional settings. 
Meanwhile, the European market is also anticipated to grow rapidly between now and 2028, with government initiatives and a favourable regulatory environment providing ideal conditions for a thriving spa and wellness market growth. 
Key companies & market share insights
Luxury and premium spa packages are increasing in popularity as a spa trend with wealthy consumers, with some major industry players focusing on broadening the variety of their best spa treatment offers. As the era of digitisation seeps further into the wellness industry, spa service offerings continue to evolve, creating ever-increasing competition between operators. These market conditions also present fresh opportunities for newcomers to the market, furthering the sector's growth as innovations capture more of consumers' imaginations and fulfil their needs for effective, convenient wellness solutions.
Some key industry players have been focused on growth strategies such as mergers and acquisitions to effectively increase their market share. For example, in 2021, cloud-based spa software supplier, Zenoti, strategically formed a partnership with business process transformation company Sutherland Global. This pairing allowed Zenoti to focus on customer experience improvements, particularly in terms of effectively addressing customer support communications. 
Some of the other key players in the global spa market include Massage Envy, Planet Beach, Mandarin Oriental Hotel Group, Hot Springs Resort & Spa, Emirates Palace Spa, Four Seasons Hotels, Marriott International, and Jade Mountain. 
With the global spa industry released from the confines of the pandemic and in considerable growth mode, just what are the primary salon and new spa trends to expect moving forwards?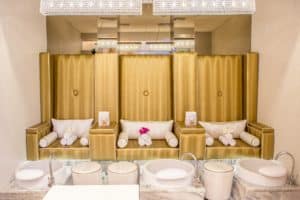 Air filtration systems
Any business that relies on physical interactions with clients suffered considerably during the pandemic. For salon and spa facilities, massages, manicures, facials, haircuts, and a myriad of other treatments requiring physical contact were affected, and wellness operations had to adapt as best they could, weather inevitable closures, and put every effort into providing extra precautionary measures to give customers peace of mind upon their return to 'business as usual.' 
The ironic situation that COVID-19 presented for the spa and wellness industry was that, as these businesses struggled to function under the conditions of the pandemic, the requirement for treatments that relieve stress, tension, and anxiety had never been greater. 
As businesses have reopened their doors, the threat of COVID and other viral transmissions is still at the forefront of many minds, and service providers have had to address these concerns to survive. 
As well as using masks, practising social distancing where possible, using plenty of sanitizers and generally adhering to far stricter hygiene protocols, another significant trend has been the adoption of air filtration systems. 
Even businesses that already featured air filtration systems upgraded to new and improved units in many circumstances, making it clear that protecting their clients' well-being and safety is their top concern. 
High-quality air filtration systems are designed to filter out contaminants and pollutants from the air that passes through them. This process can help to reduce a variety of airborne contaminants, including virus-containing particles. These systems help to protect spa clients not only from Covid-19 but also other common viral diseases such as Staph, Norovirus, E. Coli, and Listeria, as well as moulds and other bacteria. 
In addition to viral protection, these air cleaners also use oxygen and humidity to deliver the right amount of dry hydrogen peroxide into the environment to purify the air and attack microbes, both airborne and on surfaces. Consequently, such air filtration systems have become increasingly popular in spa and salon facilities.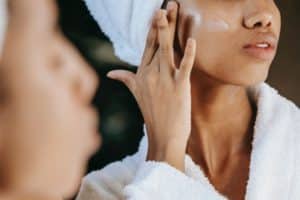 Greater accessibility
In a world dominated by convenience and driven by digital solutions, the spa industry has become increasingly more accessible in recent years. Still, the pandemic set this trajectory into high gear, with some of the hottest and newest spa industry trends centering around improved accessibility to treatments and increasingly tailored options in more private settings. 
One of the primary accessibility trends in the spa sector continues to be that of smartphone application use, allowing consumers to search for the spa professionals to best suit their requirements. These tech innovations allow consumers to search based on affordability, schedule flexibility, tailored treatment options, in-home spa visits, the most experienced, and more. 
Additionally, a range of other measures and metrics come together to provide spa treatment clients with the ultimate choice and convenience. Access to quality spa treatments and spa therapies was once reserved for those who could afford to spend their time and money on high-end spa services or hotel wellness spas. Now, no matter how full a person's schedule, their spa treatment of choice can be arranged in the comfort of their own home, after hours, or even in the office. 
This vastly increased focus on accessibility has also ushered in significant uptake of spa treatments within the male population. No longer considered to be a treat only for those ladies seeking relaxation or beauty industry services, wellness, and self-care trends are now accessible and acceptable practices for all, and many men are making spa treatments a feature of their regular self-care routine. Given the increased focus on taking care of our mental health, spa treatments are no longer considered to be purely indulgent. 
These days, spa treatments are considered by many to be a fundamental part of overall self-care, and while men are also increasingly more interested in investing in their physical appearance, they too recognise the value in spa treatments as a means of improving well-being.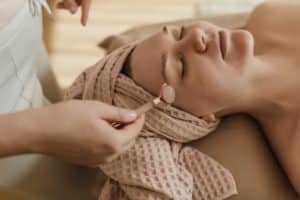 Shared wellness experiences
After so long in isolation and lockdown conditions, more and more people are looking to experience spa treatments that double up as opportunities to connect with partners, family, and friends. Couples' spa treatments have been steadily rising in popularity and are expected to continue trending in the coming months and years. 
In addition to couples' treatments, friends and family members are increasingly wanting to enjoy relaxing and rejuvenating spa experiences together; at the same time, they remain effective for stress relief in terms of the treatment itself, the added sense of connection can make the treatment even more effective in boosting feelings of well-being. 
Harnessing the power of music
Many spas and salon facilities are recognizing the power that properly curated spa music can have to significantly improve the customer experience, enhance well-being treatment benefits, and boost employee morale. 
Through services like Myndstream's Spa Music, well-being businesses have access to playlists of music performed by world-class, award-winning musical artists and curated specifically to complement a wide range of applications and treatments. 
Myndstream sits at the intersection between art and science, following the research that demonstrates a clear link between exposure to music and a lowering of stress and anxiety. In one particular study, more than 950 patients with critical illnesses were exposed to 30 minutes of daily music therapy, and a reduction in anxiety and stress was consistently demonstrated in association with the music. These and many other studies demonstrate a powerful connection between music therapy and the calming of the human nervous system, although a far broader application is also effective, with various types and tempos of music having different effects, such as up-tempo music causing feelings of elevated mood and motivation. 
Myndstream's intrinsic relationship with music and science brings together fundamental elements of how musical sounds affect our mood, cognition, and overall sense of well-being. By utilising the rigour of scientific research and working with internationally acclaimed artists, Myndstream seeks to enhance the artistic musical process and create the highest quality music-led, well-being programmes. 
With a priority focus on elevating the audio experience within business environments, Myndstream is the obvious choice for spa, salon and other wellness companies aimed at significantly increasing the well-being benefits offered via their services. Music that is carefully curated to suit specific applications, such as use during stress-relieving treatments like massage, has the power to deepen the mind and body relaxation and enhance the restorative benefits for the person experiencing the treatment.
Myndstream is committed to making their music easily accessible, through both its own platforms, as well as directly to consumers through the main streaming platforms.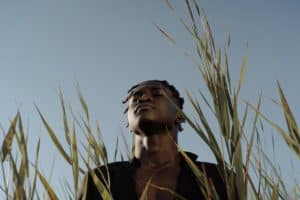 Increased focus on mental wellness
Globally, the World Health Organization estimates that approximately 5% of adults suffer from depression. Not only do individuals suffering from depression experience a range of symptoms, such as tiredness, poor concentration, and persistent sadness, but it also commonly results in diminished motivation for self-care. 
In this digital era, connectedness is in many ways improved, yet sadly, the juxtaposition is that living our lives through so many technologies diminishes opportunities for face-to-face interaction and fosters a true sense of community. 
Experts predict that mental health conditions such as depression and anxiety will continue to increase in prevalence before sufficient changes are made to turn this tide. That said, much of the taboo surrounding mental health issues is at least subsiding, allowing many more people to openly discuss their challenges and seek solutions that support their well-being. 
In addition to investing in spa treatments as a solution to managing stress and healing mental health issues, more and more people are turning to spa and salon treatments as a means of preventative self-care. Investing time and care into taking a holistic approach to our mental and physical well-being can have a profound effect on staving off the symptoms synonymous with many mental health challenges. 
More preventative treatments
In keeping with the theme of prevention being better than cure, one of the leading trends in the spa industry moving forwards will be a heavy focus on preventative and combination treatments to achieve natural, healthy results and to combat the signs of ageing.
A great example of a popular preventative skincare treatment is the use of Botox. Younger generations are realising that it is far more effective to reduce wrinkle development than it is to wait and attempt to correct them once they are set in. As we age, wrinkles are caused by everyday facial muscle movements repeated over time; Botox reduces these muscle movements, resulting in less wrinkle formation. 
Of course, investing more regularly in a variety of stress-relieving spa treatments is now well recognised as a proactive approach to staying healthy and youthful. As previously mentioned, self-care treatments are no longer considered a luxury only for the elite but a normal part of anyone's self-care routine, and that goes for age-defying, preventative treatments too. 

Connecting with nature
The mental, emotional, and physical benefits of regularly connecting with nature are becoming increasingly well understood through a growing body of evidence, and this theme runs through the spa and wellness industry.
Nature's connection to relaxation and healing benefits has influenced the themes and designs of spa facilities for a long time now, but this is expected to be taken even further in the coming months and years. Forest bathing, for example, is a vital part of preventative healthcare in Japan. Not only is nature proven to promote feelings of well-being and stress management, but after the pandemic lockdowns, consumers are drawn even more powerfully toward such elements. 
As well as the traditional spa elements of plants, stone, and sounds of nature, spa facilities are increasingly being designed with natural features in mind. Architects are incorporating wider bays to bring the outdoors in, optimal air filtration and circulation design, and more nature-inspired building materials such as wood and stone.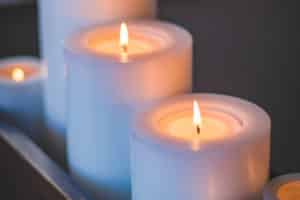 On the precipice of massive growth
With the chaos of the pandemic largely behind us and with technological advances continuing to emerge at warp speed, the immediate future of the spa industry is destined for significant change and growth. The focus on wellness, self-care, and preventative treatments is greater than ever, and coupled with the ever-lessening stigma surrounding mental health issues, the number of consumers investing in spa treatments will continue to climb exponentially. 
With tech continuing to bridge the accessibility gaps in the market, engagement in spa treatments, both in business locations and via tailored at-home care will rise further still. Trends related to flexibility in operational hours, locations, and types of treatments will dominate, as will the prevalence of preventative treatments and the use of music therapy to powerfully enhance the well-being benefits of the spa experience.