Freddie Moross, managing director of Myndstream, recently sat down with Allan Share, an expert in the wellness field and President of the Spa Industry Association, recording a fascinating podcast on tire science and mind-blowing benefits of music. Moross discussed how Myndstream's laser-focus on providing accessible, high-quality music is on track to becoming the spa industry's go-to music catalogue.
Here is a summary of the podcast for anyone who missed it.
Intro to Myndstream
Once Allan and Freddie establish that the best place in the world (other than India, of course) to get a curry is London, we head straight into introducing Myndstream.
'Myndstream creates music designed for health and well-being,' says Moross. A deep and diverse library of music designed to help elicit certain moods, Myndstream was born out of a larger business called Cutting Edge Group – the leading independent provider of music for film, TV, advertising, gaming, and more – famed for creating impactful music moments on screen. Freddie describes Myndstream as 'the iteration of that; using those pieces of expertise to craft music moments in life, and specifically for the mind and for well-being.'
As Allan suggests, music is an experience that encompasses both the right and left brain hemispheres, which is why Myndstream sits purposefully at the intersection between art and science when it comes to curating music that has the power to significantly impact the brain and our well-being.
Neurodivergence and music
Moross references the in-depth work that Myndstream has collaborated on with a variety of Professors, including music psychologist Professor Adam Ockelford, studying the impact that music can have on individuals suffering from neurodevelopmental disorders. In those with severe autism and sometimes combined with blindness, music has been shown to truly emerge as a universal Language that even non-verbal autistic people can not only communicate with, but thrive through.
Myndstream is a proud partner of the Global Wellness Summit (held recently in Tel Aviv), and Moross describes how Professor Ockelford recently took to the stage with him, as well as his long-time student, Derek Paravicini. Paravicini has become a music savant despite his severe autism and blindness; known in the US as 'the human iPod,' Paravicini knows 10,000 songs by heart, and is an expert at improvising musically, because, as Moross puts it, it's 'a language he can speak.
Myndstream's connection to the spa world
Music has the ability to powerfully impact our mind, allowing us to access far greater levels of relaxation. These deep, meditative states lend themselves to more restorative experiences in the wellness space, with spa industry treatments being one of the most common go-tos for healing experiences.
At the time of recording, Myndstream was yet to fully launch its bespoke spa streaming service, but it is now launched and growing quickly. In the podcast, the two touch on Myndstream's goal of producing high-quality, research-driven music with lower barriers to entry, for the spa industry to stream.
'We want to make it as accessible and affordable as possible, creating correctly licensed and fully available, high-quality music programming at a low subscription cost,' says Moross.
What about licensing?
Without going too far down the rabbit hole in terms of licensing, historically, spa treatment facilities and a host of other business types play music from CDs and other sources without the correct licences in place for using the music in a commercial setting. Myndstream focuses primarily on the high quality and low cost of the music catalogues they offer, with the added bonus of having all the correct licences in place to give business owners peace of mind.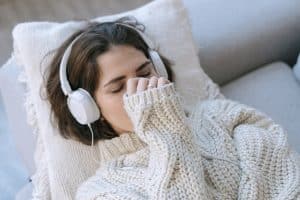 The ultimate immersion experience of quality music
Share and Moross reflect on the difference in experience and reaction that we have to both art and music depending on the quality of the piece in question; Allan refers to the lacklustre effect that a poor-quality picture may have compared with one that is 'crisp, and tight, and makes you go 'wow" – and as Moross puts it, when you see it, you know it, and when you hear it, you know it.'
In regards to the use of music in the spa industry, Freddie passionately reflects on the powerfully immersive experience that truly great movie music conjures, and how that same degree of immersion should be part of the spa experience. 'A truly immersive track is almost 'not there – when you're giving a really immersive massage, the audio should accompany that massage, and the rhythm should be consistent. Everything should be really strategically thought through for the optimal value to come through to the end user,' he said.
What sets Myndstream apart in the spa sector?
Myndstream's extensive experience of making ultra-immersive movie music is what it draws on, added to the incredible roster of very high-level, award-winning composers.
Nevertheless, Myndstream doesn't rest solely on this, running trials consistently to dive deeper into the cross sectional space between art and science, to bring the expertise of artists and the growing body of scientific research together into one creation – music of considerably elevated quality.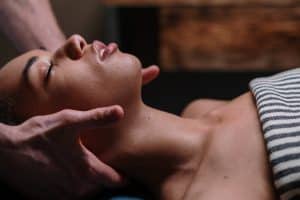 It all starts with sleep
Freddie asserts Myndstream's deep respect for the integral, critical component that the science of sleep plays in its endeavours. Working with a gold-standard sleep laboratory, Myndstream seeks to better understand the fundamental ingredients necessary to create optimal sleep music, taking deep dives into vast, longitudinal studies to uncover the core elements necessary to perfect their cataloque of work.
From percussive elements, to tempo, tonality, and frequencies used, a baseline is created in collaboration with the most commercially successful sleep music-based musician, Chuck Wild aka Liquid Mind, who works closely with Myndstream and features prominently in their music curations.
Wild, a world-renowned keyboardist, producer and composer of sleep-inducing tracks, has been hard at it for decades now, starting out in the late eighties, and has had tremendous success. As if working with Michael Jackson for many years isn't enough of an accolade, Liquid Mind's tracks consistently rank atop the New Age Billboard charts, and have amassed 1.5 billion listens on Pandora. With 18 studio albums released, Wild's expertise in creating virtually sedating music is never more valuable than it is now, as we enter a new era when it comes to understanding the science behind sleep, and how powerfully music can affect the mind; Myndstream is beyond proud to collaborate with Wild and benefit from his hard-earned expertise.
Allan, an expert in the wellness field and the spa industry in particular, finishes with an enthused expression of how on-track Myndstream is regarding providing an essential, high quality and high value service to the spa sector, stating, The elevated spa treatment means a couple of things – they'll pay more, they'll tip more and they'll rebook – so, everything Myndstream is doing is perfect for the spa channel."